COVID-19 UPDATE – SUN, JULY 5, 2020:                We're excited to start putting #ButtsOnBikes again! Tandem bikes are now officially available for short and long-term loans!
Each tandem bike is thoroughly sanitized by a professional bicycle technician before and after each loan.
Some instruction can be provided to pairs interested in loaning a tandem, but it is preferred that riders have at least some tandem biking experience.
If you and a trusted friend or loved one would like to borrow a tandem bike for the day, the weekend, or long-term, just get in touch:
Message us on Facebook
Email blindsportsns@gmail.com
Call or text 902 449 0320 (Jennie)
We are unable to safely host group rides and cannot provide volunteer pilots/captains at this time.
We will not be hosting any group orientation sessions for volunteers and those brand new to tandem cycling until further notice.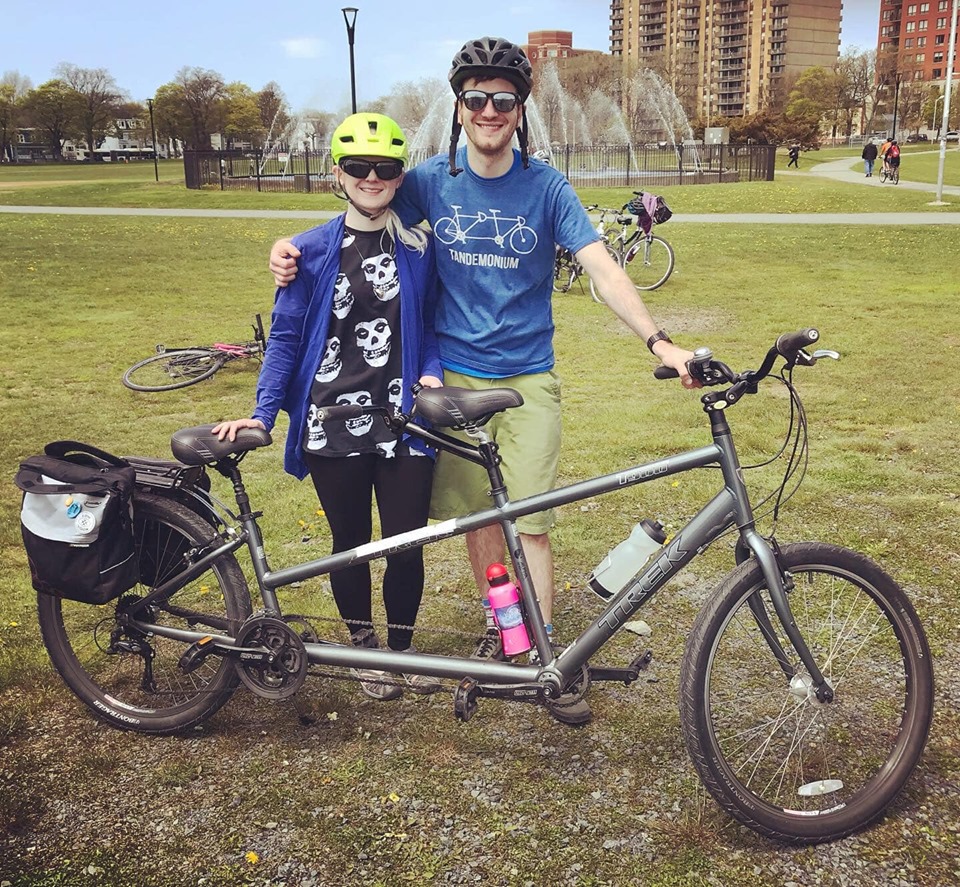 The Blind Sports NS Tandem Bike Club connects blind and visually impaired Nova Scotians to the joys of bicycling.
Whether it's been years since you're ridden bike or you've never cycled before! #ButtsOnBikes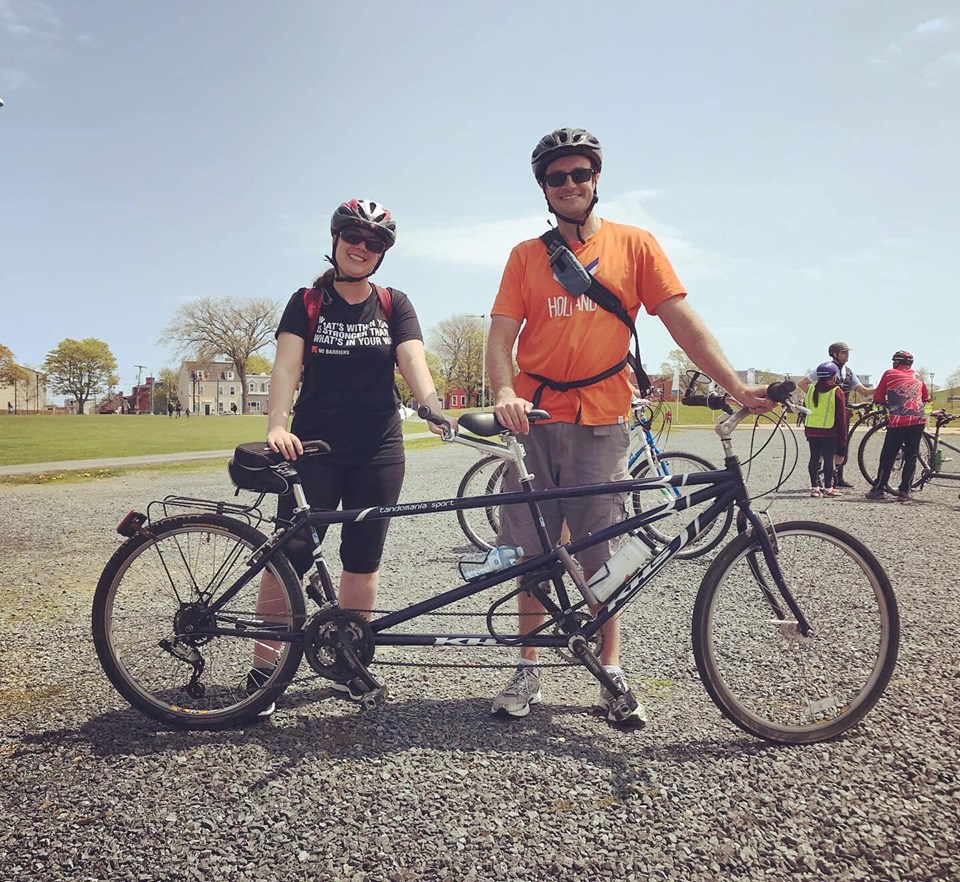 Upcoming Group Bike Rides:
Sunday, October 6, 2019  – Short Ride on the Chain of Lakes Trail, Halifax.  9 a.m. to 11 or 11:30  The ride end-time is flexible, as we'll bike for 30 to 45 minutes before stopping to do a check-in with the group and any new riders. This ride is FULL (all bikes and volunteer pilots have been reserved), but we welcome everyone with their own bikes of all kinds and/or pilot to join us on the trail!! Visit the Facebook event for details.
CANCELLED due to rain — Saturday, October 12, 2019 – Long Ride to the Bike and Bean. Halifax to Timberlea – This will be a long trail ride, up to 4 hours of biking, and for cyclists with experience and stamina. That said, you're welcome to rest take breaks along the way. We'll start and return to Halifax, stopping for lunch at the Bike and Bean or Cavicchi's, which are right next to each other and both offer delicious food and drinks. Visit the Facebook event for details. 
About Tandem Biking
Tandem biking in a fun way for community members living with vision loss to get active in the great outdoors with family and friends.
A tandem bike is a bicycle built for two.
A person with vision loss rides in back and is referred to a stoker.
The pilot rides up front and steers and changes gears, while communicating effectively with and guiding the stoker.
The Blind Sports NS Tandem Bike Club, its Coordinator and Technician, believe in safety first! Helmets are always required, we follow the rules of the road, and all riders of all kinds are required to receive orientation.
Who's Tandem Biking For?
Participants with all levels and types of vision loss are welcome
No experience necessary (we'll show you the ropes!)
Participants of all ages are welcome (we'll do our very best to find a bike that fits your height & needs)
Tandem biking may also be a good fit for participants who have other disabilities or mobility restrictions.
Your orientation session and first bike ride are FREE. An annual $30 Membership is required for insurance and liability purchases and gives you access to our tandem bikes, training, and our volunteer pilot roster for the whole year.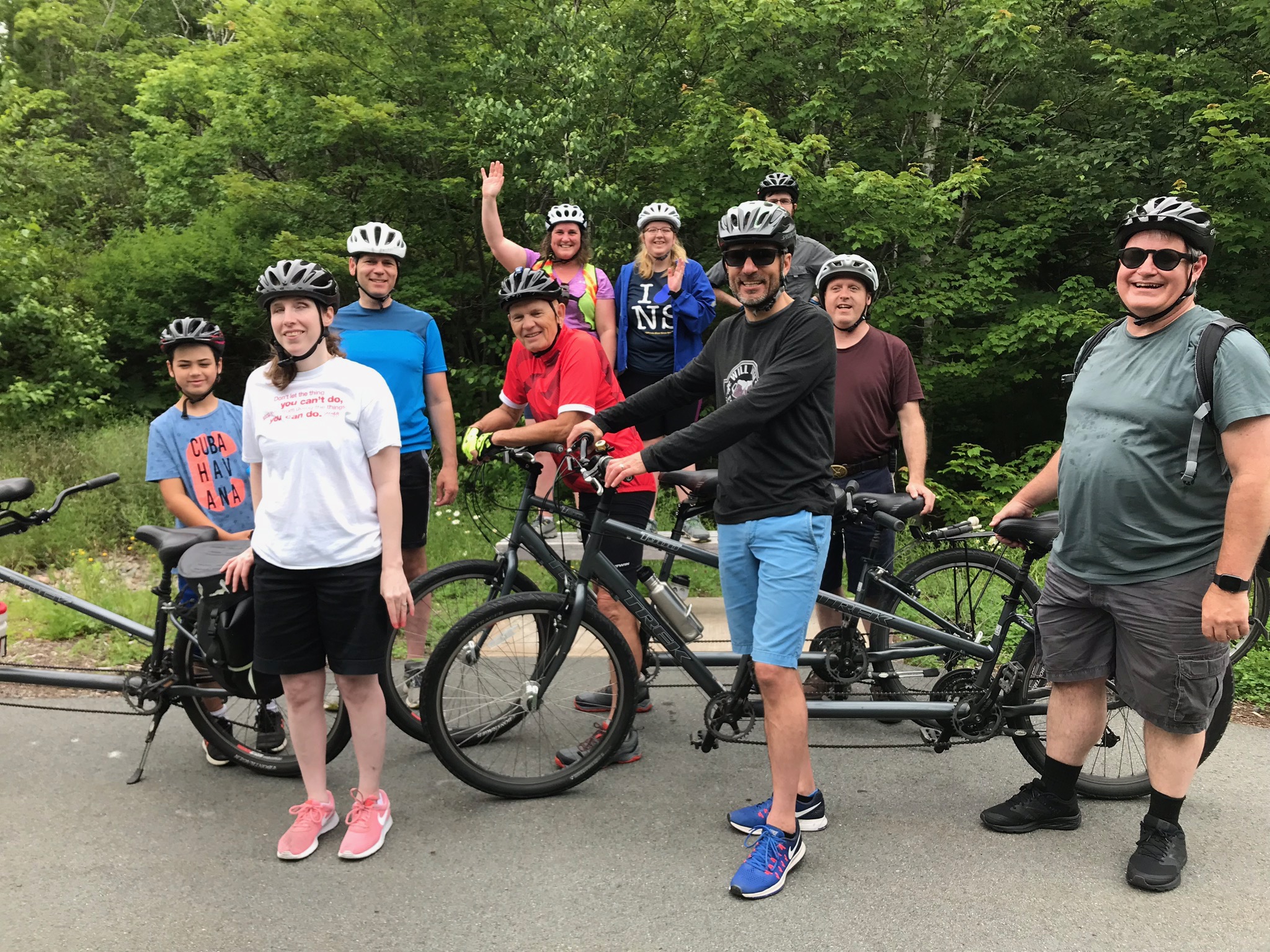 What We Offer
We'll introduce you to tandem biking, show you the best practices, and get you comfortable before heading out for a ride. Attend one of our group orientation sessions or schedule a 1 on 1 session.
A growing fleet of tandem bikes, including different sizes and types.
Our bikes are available for short and long term loans – for a few hours, a few days, or even longer.  Please just get in touch with us to request a tandem bike loan and arrangements.
Our tandem bikes are maintained and serviced by an experienced professional bicycle technician before every single ride.
We offer helmets with our bikes and our bikes include bells, water bottle holders, racks, etc.
We are based in Halifax, but our bikes love to travel!
 We also offer a roster of trained volunteer pilots available to cyclists with vision loss. More information on volunteer pilots below.
Volunteer pilot orientation sessions for friends and loved ones of cyclists with vision loss

. If you have a friend or family member that would like to pilot (go tandem biking) with you, we will provide the training to get them safe and comfortable, NOTE: If you're a cyclist with vision loss loaning one Blind Sports NS's tandem bikes for a ride of any kind, the pilot must receive an orientation.
Volunteer Pilot Orientation Sessions – We host at least one volunteer orientation (training) session per season. We can also arrange for 1 on 1 orientation.
Group Bike Rides
From about April to October, we host super fun group rides along the Chain of Lakes, BLT, St Margaret's Bay Trails and more.
We offer shorter rides for those just getting their feet wet to rides that take all day or all weekend and it's free to participate.
Our professional bicycle technician is on hand at each group ride!We LOVE the Bike and Bean and take the 50 kilometre round trip ride from Halifax at least a few times each season.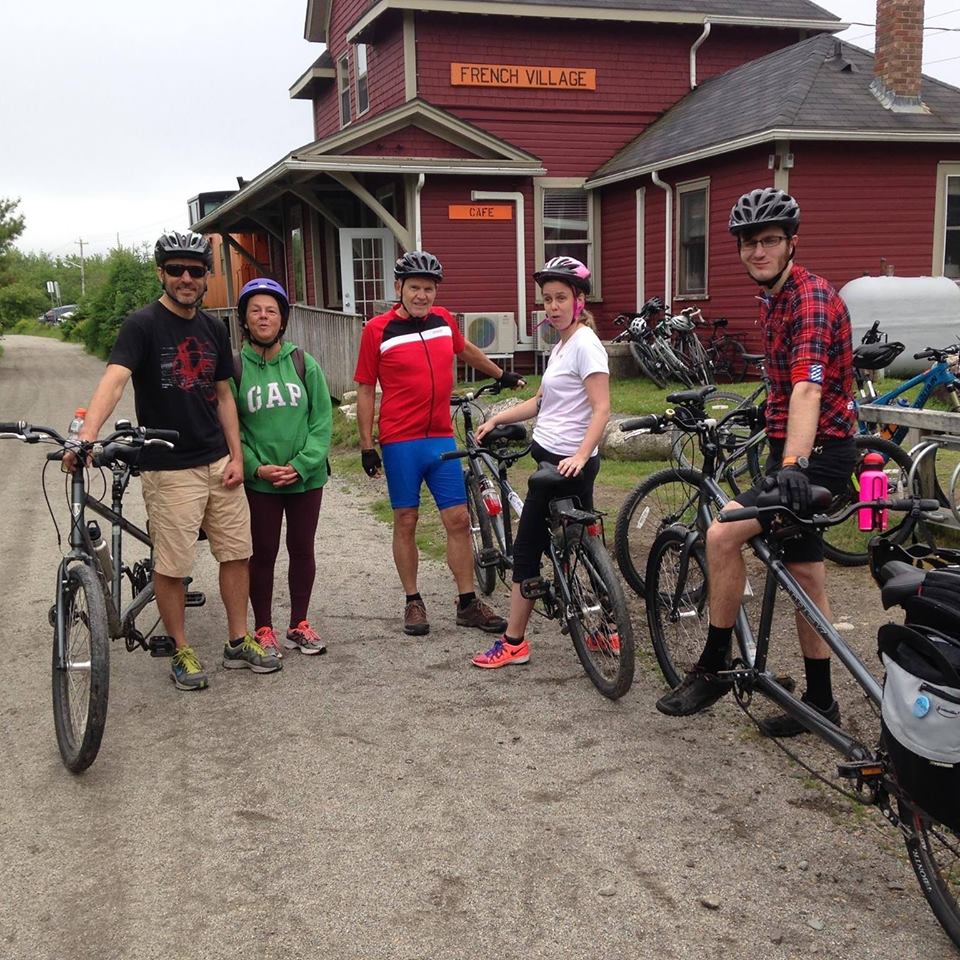 Volunteer Pilots
We provide volunteer pilots! Our pilots are experienced, confident, cyclists, who are passionate about making cycling accessible for everyone.
Our volunteers receive training, including sighted guide technique, a vision loss 101 course, tandem biking best practices, and more.
Volunteers are available for group bike rides hosted by Blind Sports NS, individual requests, community events, and more.
Whether you're a cyclist with vision loss and would like to go out for a long or short trail ride on the weekend, run a few errands around town a weeknight evening, or participate in a triathlon, we'll connect you with trained volunteer pilot.
Volunteering
Are you an experienced and confident cyclist? Want to help us share the joy of cycling with people in the community living with vision loss, while having a great time? We'd love to hear from you.
Receive the above-described training and choose how and when you volunteer. Choose from group rides, individual requests, sometimes training for competition.
We're always looking for friends (volunteers) with trucks or other means of transporting tandem bikes for group rides, community events and for individual requests!
Get in Touch
Contact Jennie, Tandem Bike Club Coordinator
Call or Text 902-449-0320