Our charity auction takes place this Saturday at 6pm! We hope you can join us for good deals, good times, all for a good cause.
Just $5 at the door includes paddle and a drink!
This event is held annually in support of blind and visually impaired goalball players of all ages and skill levels.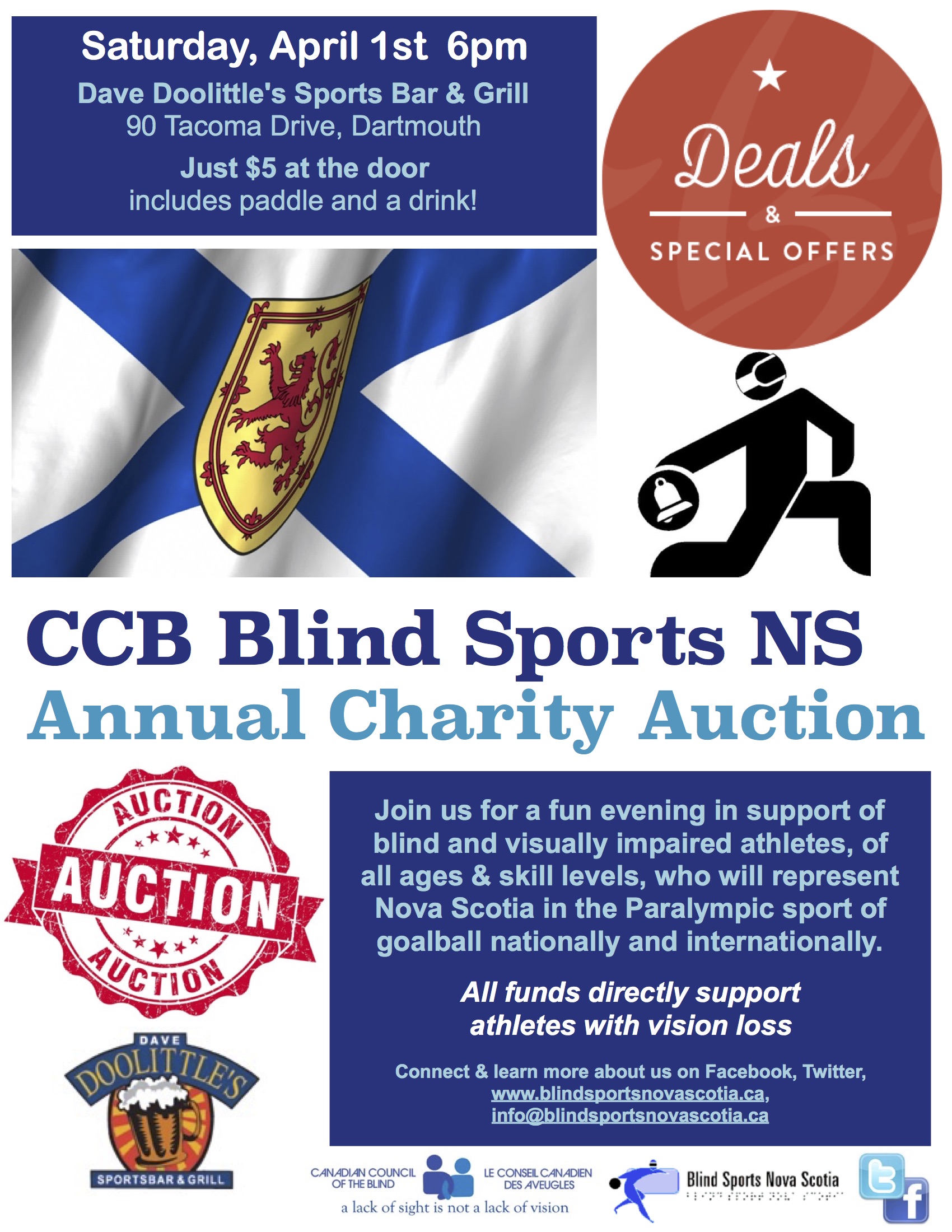 AUCTION POSTER Description 
Inside a navy blue box at the top left
Saturday, April 1st 6pm
Dave Doolittle's Sports Bar & Grill  
90 Tacoma Drive, Dartmouth
Just $5 at the door includes paddle and a drink!
A pink-red graphic in the right top corner reads: Deals & special offers
Below that the Nova Scotia flag and a graphic of a black and white figure wearing eyeshades and throwing a goalball
The centre of the poster reads: CCB Blind Sports Nova Scotia Annual Charity Auction 
Below that and to the left is a seal that reads Auction and below that Dave Doolittle's Sportsbar and Grill logo 
To the right in a navy blue box reads: 
Join us for a fun evening in support of blind and visually impaired athletes, of all ages & skill levels, who will represent Nova Scotia in the Paralympic sport of goalball nationally and internationally.
All funds directly support athletes with vision loss
Connect & learn more about us on Facebook, Twitter, www.blindsportsnovascotia.ca, info@blindsportsnovascotia.ca 
Below that the Canadian Council of the Blind "A lack of sight is not a lack of vision" logo, Blind Sports Nova Scotia logo, as well as Facebook & Twitter logos appear.