Nova Scotia Junior Girls won their first ever Gold Medal at the 2019 Canadian Junior Goalball Championships held at Brantford, Ontario this past weekend.
Our girls, who won silver last year, met the 2018 champions, British Columbia, in the gold medal game. Nova Scotia, consisting of Tarah Sawler, Shams Hamad, Alexis Butler, and Emily Kinnear,defeated the British Columbia girls by a score of 8 to 2 to capture the gold.
Nova Scotia Junior Boys won their second consecutive Gold Medal at these Junior Goalball Championships.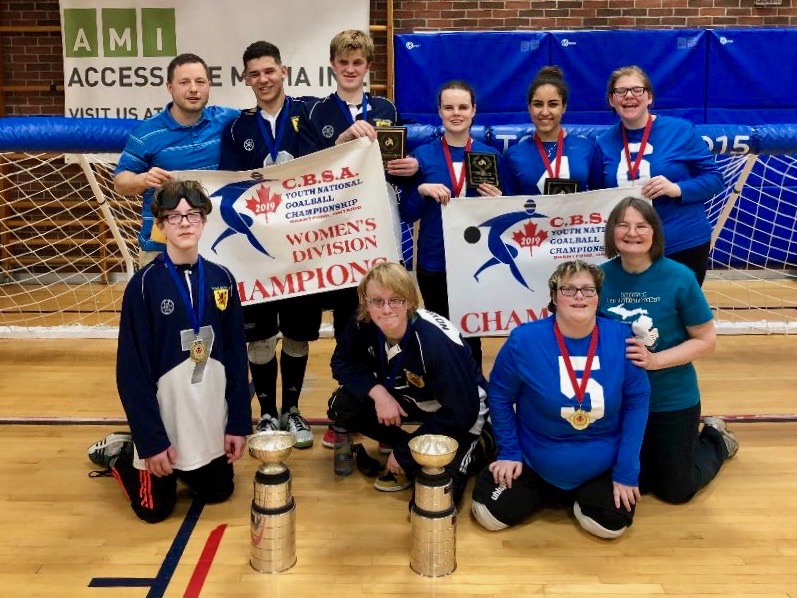 Nova Scotia boys first won the gold in 2018 in front of their home crowd in Halifax. Ontario, the 2017 champions, won the silver medal in Halifax and were hungry to retake the title in Ontario. However, our Nova Scotia boys, Mason Smith, Nick Gentleman, Matthew Gentleman, and Griffin Hiltz won the gold medal in the final game with a score of 14 to 4.
At the conclusion of the tournament, the tournament officials choose the 2019 Junior Goalball "All Tournament Teams" in both the Boys and Girls divisions. The girls selected were Tarah Sawler and Shams Hamad of Nova Scotia and Haley Olinyk of British Columbia. The boys selected were Mason Smith and Nick Gentleman of Nova Scotia and Nader Ibrahim of Ontario.
Both Nova Scotia teams were coached by Linda MacRae Triff and Peter Parsons.
The 2019 Senior National Goalball Championships will be held in Halifax from May 10 to May 12 at Citadel High School.
– Linda MacRae Triff, Head Coach